Make no mistake about it, the Forza Motorsport games are some of the best racing games in video game history. Forza Motorsport 4 is no exception to the quality of game to be expected. Forza 4 raises the bar and pushes the racing experience to entirely new levels not found in any other game. If you are looking for a solid racing game on the 360, look no further because this is the best. If you are looking for something to play for your Xbox Kinect, you may want to read the rest of this review before diving in.
If you don't already have a hard-drive for your Xbox, you may want to grab a USB stick. This game comes with an extra disk of content that you don't want to miss out on. For those picking up the game right away, you are also rewarded with download codes for addition tracks and cars. One of those tracks is the ability to play soccer/European football with cars. Yes, you read that correctly, the ability to push along a ball with a car and shoot goals.
The first thing you see when you load the game is the option to play with Kinect or to play with a controller. Because this is a Kinect focused review, I will be covering the Kinect portion of the game first. There are some other Kinect enabled options while you are playing with a controller, but I will get to those later in the review of the controller part of the game.
The Kinect mode has 4 panels to choose from; autovista, quick race, hot lap, and split screen. Sadly, there is no career mode, online play, or even credits earned from playing in Kinect mode. If you only play in the Kinect mode, you won't realize how much is missing. However, once you start tinkering in the controller mode, you'll quickly realize how much is not Kinect enabled. Not that this is bad, but there seems like there would be a lot more Kinect mileage if the career mode was integrated into the Kinect mode.
Having said that, what you can do with the Kinect in this game is pretty amazing. For people who have been turned off from racing games because of controller issues, this is a great entry point. With the use of the Kinect, this racing game is accessible to people of all ages and skill levels. Anyone with a love for cards will fall in love with the Autovista Mode. In this mode, using the Kinect, you can literally walk around some of your favorite automobiles. Want to open the hood? Go ahead. Want more information? Just hover your hand over the engine and Jeremy Clarkson, from Top Gear, will tell you all about it. How about a test drive? Walk over to the door, lift it up, and hop in. What, you've never sat in a Ferrari? Well now is your chance. You can hop in, turn the engine on, and take it out on the road.
There are four modes to drive your favorite cars in Forza. The first is mentioned above, where you can test drive your car from the Autovista showroom floor. The next mode is where you'll probably get most of your driving mileage. It is a quick race, where you can choose from a plethora of cars and tracks. Drive the race, rinse and repeat. The third mode allows you to drive around the track, trying to beat your own time. The fourth mode is a local split-screen mode where two people can go head-to-head.
The driving, using Kinect, is incredibly easy and smooth. Acceleration, breaking, and almost everything else is handled for you. The only thing you need to worry about is steering. You can drive sitting down or standing up. While you may not burn as many calories, I would actually recommend sitting for a more genuine driving experience. The touted head tracking is not available in this mode, but will be covered later in this review. No other difficulties can be adjusted.
Each car and each track have been painstakingly made into near perfect replications. You can definitely tell the difference between driving a Chevy Spark and a Hummer. You'll have plenty to choose from nearly 500 cars between both disks. Some of those cars are only unlockable by playing through the career mode and other modes on the controller part of the game. Each car looks different, drives different, and even sounds different.
Once you move into the controller enabled portion, you move into an entirely different world that you will get sucked into and lost in. There are hours upon hours of things you can do that don't even require you to drive. You can shop for cars, tune your car, create a unique paint customization, hire a driver to race for you, and these are only scratching the surface. If you get this game and don't have an Xbox Live Gold account, now is the time to do so. There are heaps of content just begging to be played with, just a button or two away.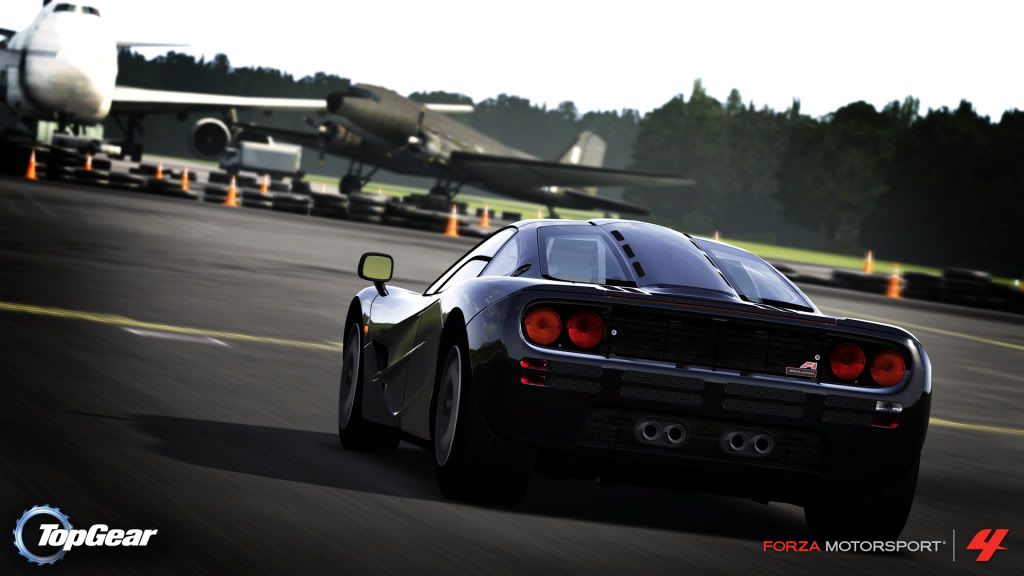 For the single player driving experience, the World Tour Mode is where you will want to start at. You are given a set of small cars to pick from and you will take your selection around the globe. You are given five events to attend, ranging from racing to a Top Gear themed bowling event. Each event has several choices tailored to your car, with each choice given specific rewards. After the event, you rank up as driver and build rank towards your specific manufacture affinity. Manufacture affinities will offer discounts and extra driver credits. Credits can be used to spend on car upgrades, tuning, fixing your car, unlocking more cars, or other things you can find in the auction house. Lost yet? Hang on, we're only touching a portion of the game here.
The World Tour Mode will easily last you hundreds of hours. However, a racing game just isn't the same without taking the race online. There are many ways to race online. You can pop into a regular race, go play a Top Gear themed challenge, join ranks in a racing club, or race the track and send a challenge to your friend. Challenges, events, prizes, and much more will be delivered to your inbox on a daily basis. Needless to say, you will probably never run out of things to do in this game.
As for the actual driving with a controller, this is probably one of the most accessible games out there. You are able to turn on many assists, that will do almost everything for you. Hand the controller to a young kid or unexperienced gamer, and they can do pretty well. Just hold down the gas and you've got it. For those that have been around the track a few times, you can turn off the assists and get a near-perfect racing simulation. The game will encourage you and give you more credits for doing so.
The Kinect can also be used in the controller portion of the game. A super nice feature is voice commands. In all fairness, voice commands are also supported by the microphone through a controller. To get past several layers of menus, you can just say the word and you are where you need to be. As a neat driving feature, you can use the Kinect to track your head. I may have missed it, but the head tracking feature seemed to be absent from the Kinect driving mode. However, when holding the controller, you can enable the Kinect to follow your head movements and let you peek around upcoming corners. This is a pretty neat feature, but doesn't prove to be all that helpful. Perhaps if you plug-in a driving wheel and have it on, it would add to a very realistic experience.
In critiquing games, I like to look at, what I call, the five f's: fitness, family, fun, functionality, and firsts. This game does not advertise to be a fitness game and you probably won't burn any calories playing it. Sure you can walk around the car, but driving is best done while sitting. As for family, this game is clean fun and can be played by any age, young or old. The fame functions perfectly. Sure, it can be a bit tricky lifting the hood, but that is because it is tracking your body and your hand as you move the car. Once you get behind the wheel to drive, the game is near perfect in response. While this game is not the first driving game for the Kinect, it is the first realistic driving game and provide a great way for gear heads to jump in and have fun.
In summary, as for a Kinect only venture, there seems to be only a few modes to choose from. I would like just a portion of what is available from the controller portion of the game, such as online racing modes or some kind of career mode. There are fun things to do, but if you only play with the Kinect, there isn't a whole lot of mileage here. As for the controller mode, you will not find any other racing game on the Xbox 360 that looks this good and has this much content. This game is a true beauty and will keep you busy for a very long time. Yes, every picture you see and the video below are from the game; they are not photos, but actual in-game footage. This is an absolute MUST BUY for anyone even slightly interested in automobiles.
To talk about this game or comment on the review, please direct them to the Kinect to Fitness and Health SparkPeople group, here.
A quick video review of the game can be found below, along with a video of the trailer shown at E3. Again, all footage shown is straight from the game.